Go to your Team.


Click Add a tab (plus sign) located in the tab menu inside your team.

Locate and click Haldor from the apps that appear.

Fill in the fields.
A) Choose the type of tab – choose the content you want to add.

Haldor – Plans, Assignments, Assessments (Recommended).
Haldor Plans – The tab only shows Plans.
Haldor Assignments – The tab only shows Assignments.
Haldor Assessment – The tab only shows Assessments.
Haldor Attendance – Displays attendance and is used for student mentor teams. Read more about student mentor teams by clicking here.

B) Title – Name your tab.
C) If there are multiple schools that you have access to, select which school you want to connect your team to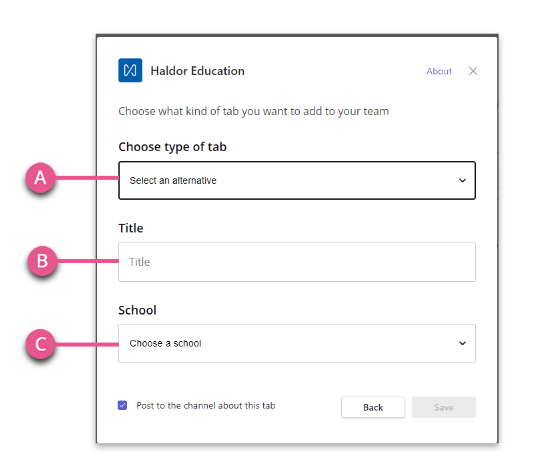 Click Save.


The tab is now installed in your team. You and your students can now work with the selected content directly from the team.

Have more questions? Submit a request